Marjatta Ranta-Iso works in Winsum, a village in the north of the Netherlands. She is a versatile artist, best known as a graphic artist in a group of artists called HOLT, who are specialized in blockprint. The nature is the most important source of inspiration for her. (She grew up in the Finnish forest landscape.)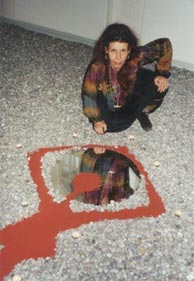 Characteristic of her work is the breathing atmosphere, which she creates by the play between light and shadow, reflections on the water and the use of air perspective.
Next to her two dimensional work she also makes art objects and installations, for which she chooses materials out of the nature; such as stones, shells, sand and earth.
Marjatta Ranta-Iso has got a magic vision of life, which she carries out in her performances. During her performances she creates an installation: a "sandpainting" on the ground out of different colour sand, pigments or other materials. While she works, she uses movements, her voice and music instruments to create a ritual of arts: a multi art performance.
Here you can watch how she is working. You can see the end result here larger.
Exhibitions 2019
jubileumexpositie van Holt
13 december 2018 t/m 20 januari 2019
Opening 16 december 16:00
'Scandinavische Streken 4'
19 Januari t/m 16 maart 2018 za/zo 13:00-17:00 en op afspraak
Opening 20 januari 15:00, muziek door Marjatta en Hans Kromme
'Magic Landscapes' - Marjatta Ranta-Iso
soloexpositie tijdens het EU-voorzitterschap van Finland (1-7 t/m 31-12)
De expositie is toegankelijk voor bezoekers van Europahuis-evenementen.
Only visitors of events in the Europe House can see the exhibition.
2 juli t/m eind december 2019
Opening en handover ceremony van Roemenië naar Finland 2 juli 16:00
19 oktober 2019 t/m 9 februari 2020 za/zo 13:00-17:00 en op afspraak
Opening 20 oktober 15:00
Exhibitions 2018
'Scandinavische Streken 3'
13 Januari t/m 16 april 2018 za/zo 13:00-17:00 en op afspraak
14 januari ook om 13:00 u.open en opening voor genodigden om 15:00 u. met noordse hapjes en muziek door Marjatta en Hans Kromme
'20 jaar Holt', een jubileumexpositie van de vereniging van Noordelijke hoogdrukkers
24 maart t/m 20 mei 2018
Opening 25 maart 14:30
jubileumexpositie van Holt
13 december 2018 t/m 20 januari 2019
Opening 16 december 16:00
Exhibitions 2017
'Scandinavische Streken 2'
14 Januari t/m 16 april 2017
Opening 15 januari 15:00 met muziek door Marjatta en Hans Kromme
'HOLT in het vierkant'
29 april t/m 27 augustus 2017
Opening 29 april 15:00
'Dialoog'
Half juni t/m half augustus 2017
In de boerderij naast de Stefanuskerk
'Het landscap centraal'
8 september t/m 14 oktober 2017

'19e Onafhankelijke Realisten Tentoonstelling'
17 september t/m 17 december 2017
Besloten opening voor genodigden 16 september 13:00-17:00
Opening 17 september
Exhibitions 2016
'Scandinavische Streken'
16 Januari t/m 1 april 2016 (verlengd)
Opening 17 januari 15:00 met muziek door Marjatta en Hans Kromme
'Stroom'
13 maart tot 13 mei 2016
Opening 13 maart 16:00
'Op formaat' 2
17 maart t/m 9 april 2016
Reizende expositie met werken van 40 x 40cm
29 maart t/m 4 april 2016
AVA Magazine
Art Festival Osaka pag. 4-6, Gallery Kitai pag. 6-7, Marjatta pag. 48-49
'Heel Nederland de lucht in'
3 april t/m 3 juli 2016
Besloten opening 2 april, 14:30 opening door Nico de Haan, en muzikaal intermezzo
'Heel Nederland de lucht in'
9 april t/m 3 juli 2016
Opening voor genodigden 9 april 16:00
9 t/m 27 april 2016
'Heel Nederland de lucht in'
12 april t/m 19 juni 2016
Opening voor genodigden 10 april 15:00, opening door Kees van Kooten, en muzikaal intermezzo
Valença, Rio de Janeiro, Brazilië
Tendencias Criativas
27 september t/m 31 december
23 oktober t/m 4 december
Opening Pictura 23 oktober
Finissage Horneman 3 december
Kunstmaand Ameland
november